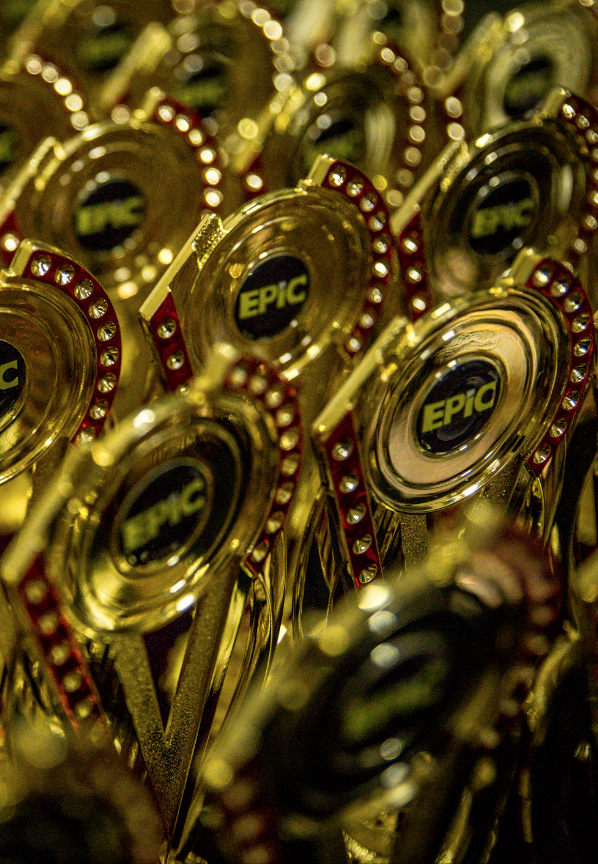 EPiC OPEN – 3rd event in the 2018 South West Series
The event will feature:
– Over 60 fighting divisions
– Fantastic trophies and medals for 1st, 2nd & joint 3rd places
– Competitive entry fees
– Fair refereeing and a friendly environment
– Hot food, refreshments and equipment stand
– Organised scheduling and seating
Please note this event is pre registration only. This will close Weds 11th May 2018.
See the division list below.
Regular updates on the FACEBOOK EVENT
To pre register email info@https://epicmartialarts.co.uk
For more information call: 07590 682 683
Entry Fees:
£10 first division | £5 each additional division | £10 per Tag Team
Beginners = under 1 year competing
Intermediate = under 2 years competing
Divisions:
1 5-6yrs Mixed Gender & Ability Points
2 -115cm Beginner Mixed Gender Points
3 -115cm Inter/Adv Mixed Gender Points
4 -125cm Beginner Mixed Gender Points
5 -125cm Intermediate Mixed Gender Points
6 -125cm Advance Mixed Gender Points
7 -135cm Beginner Boys Points
8 -135cm Intermediate Boys Points
9 -135cm Advanced Boys Points
10 -145cm Beginner Boys Points
11 -145cm Intermediate Boys Points
12 -145cm Advanced Boys Points
13 -155cm Beginner Boys Points
14 -155cm Intermediate Boys Points
15 -155cm Advanced Boys Points
16 -165cm Beginner Boys Points
17 -165cm Intermediate Boys Points
18 -165cm Advanced Boys Points
19 +165cm Beginner Boys Points
20 +165cm Intermediate Boys Points
21 +165cm Advanced Boys Points
22 -135cm Beginner Girls Points
23 -135cm Intermediate Girls Points
24 -135cm Advance Girls Points
25 -145cm Beginner Girls Points
26 -145cm Intermediate Girls Points
27 -145cm Advance Girls Points
28 -155cm Beginner Girls Points
29 -155cm Intermediate Girls Points
30 -155cm Advance Girls Points
31 -165cm Beginner Girls Points
32 -165cm Intermediate Girls Points
33 -165cm Advance Girls Points
34 +165cm Beginner Girls Points
35 +165cm Intermediate Girls Points
36 +165cm Advance Girls Points
37 Novice Ladies Points Open (1st 4 Grades)
38 Inter/Adv Ladies Open Points (5th Grade+)
39 Novice Mens Points Open (1st 4 Grades)
40 Inter/Adv Mens Open Points (5th Grade+)
41 Little Ninjas 5-6yrs Mixed Gender & Ability LC
42 -115 Mixed LC
43 -125cm Mixed LC
44 -135cm Boys LC
45 -145cm Boys LC
46 -155cm Boys LC
47 -165cm Boys LC
48 +165cm Boys LC
49 -135cm Girls LC
50 -145cm Girls LC
51 -155cm Girls LC
52 -165cm Girls LC
53 +165cm Girls LC
54 -70kg Mens LC
55 -80kg Men's LC
56 +80kg Men's LC
57 -60kg Ladies LC
58 +60kg Ladies LC
59 -125cm Mixed Tag Teams
60 -135cm Mixed Tag Teams
61 -145cm Mixed Tag Teams
62 -155cm Mixed Tag Teams
63 -165cm Mixed Tag Teams
64 +165cm Mixed Tag Teams
65 Adults Mixed tag Teams