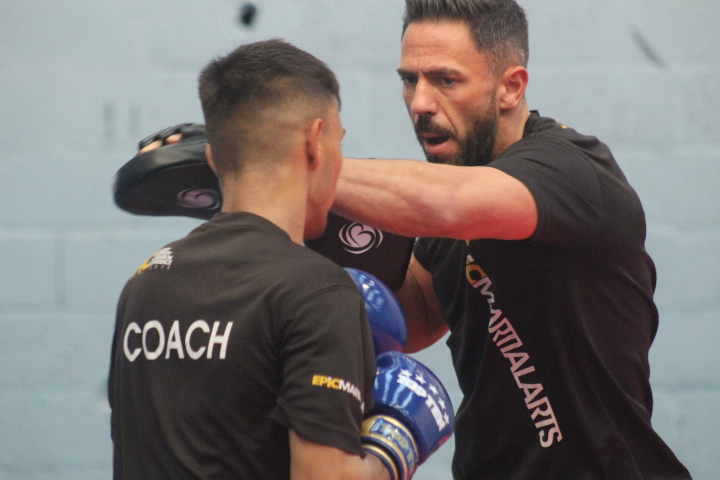 Role: founder & Head of all epic operations
Background: Kickboxing, kung fu, fitness
Nicknames: Badger, Dominator
Andy started his martial journey as a young boy and it was the lessons of determination and never giving-up that he learnt during the start of his fighting career that would form the foundations of the EPiC way that thousands prosper from today. He went over a year without winning a fight but it only fuelled his desire to be the very best and over time he turned the lessons he learned in defeat into the fire to overcome anyone and anything. 
Andy went on to win the IASKA World Championships in 2001, back when it was the title to win! He also won the European championships and the title belt that he claimed on that day still lives in the gym to remind everyone that consistency and hard work gets rewards, another pillar in the EPiC model. Although Andy does not compete any more, he is dedicated to developing the next generation of fighters and building athletes to represent the EPiC name. It isn't just about the athletes to Andy, every single member of the EPiC has a personal journey and Andy takes a personal approach to making sure that they achieve their dreams.
Andy has done alot of charity work with different challenges and events, which has raised many thousands of pounds over the years both through the EPiC name and personally. 
Away from work Andy loves spending time with his partner Rhea and his children Ava and Presley. He is a dab-hand in the garden and is known for his funky dance moves. Andy enjoys social events with his friends and family, as well as with the EPiC community.
Notable Achievements:
IASKA World Champion, WAKO PRO European Champion, WAKO British Champion, Irish Open Champion, Pioneering the EPiC Way.