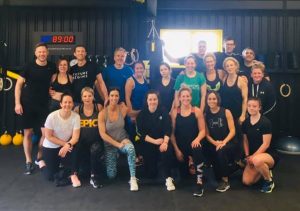 Class Instructor

Nicknames: Arthur
Emma joined EPiC as a student in late in 2017 to get fit, learn martial arts and to relieve stress. After starting with personal training with Andy Cleeves, Matt Roberts and later Rakan Sabbah, Emma went on to start competing in kickboxing. 
After competing in Croatia, The Netherlands and Ireland, as well as all over the UK, Emma decided to focus mainly on getting fit and focusing more of life development. She completed a 6-month camp in Canada in 2019, which was a giant step in her personal development and allowed her to overcome many of her fears. With this experience, she returned to Bristol with a wider outlook on herself and her role within EPiC became more permanent in 2020 with the world pandemic situation cancelling her 2nd trip to Canada. 
Emma entertained the EPiC kids with 'EPiC education' and 'PE' on the online timetable during this time, which saw her complete over 100 sessions across those 2 elements. She also took some cooking classes live on the online timetable.
Emma has also completed charity events at EPiC, including a sky dive with fellow instructor Rakan Sabbah and also organised and co-hosted a mid-lockdown event with fellow coach Matt Roberts. 
Aside from teaching, Emma plays Tennis, the drums and enjoys spending social time with her friends and family.