The last two weekends were as always very successful ones for EPIC with 3 events all going to plan.
Firstly two Saturday's back saw our new instructor Matt Roberts have a chance to show off his reality based skills as he, alongside Andy Cleeves, taught the Total Combat seminars. The adults were taught the full version and revelled in the effectiveness and blunt force behind real life threat-stopping! The that Sunday saw a double dose of EPIC, firstly we had several members representing us in the CIMAC league at Windsor which turned out to be successful with gold medals and a special mention to instructor Gio Marchese for a successful return after a lengthy injury. Whilst this was taking place Andy Cleeves alongside new coach Matt Roberts went to Yate shopping centre to promote the new club there.
The weekend just gone saw a quality pre-grading session take place at Filton Hill school and then another promotional day, this time at Bradley Stoke's Willowbrook centre. We were situated just inside the 24 hour tesco and had a demo team as well as the child-friendly giant dragon coming out for the second weekend in a row.
A big thank you to all those who took time out on a Sunday to be a part of the EPIC demonstration team, you were brilliant.
The self defence seminars were a success with the adults thoroughly enjoying the new experience and taking to it well. Covering many aspects of street based assaults including knife situations, basics of ground survival, chokes and grabs and unarmed assault. The little dragons then had a lesson in stranger danger which saw all 15 of them excel in escaping dangerous situations with unknown adults. They had to complete many skill based games which added the necessary fun element with the goals being informational and to escape from the EPIC instructors who played the role of strangers. Finally the children's seminar was attended by over 25 kids and was another success. The session was based around anti-bullying and how to deal with bullies. As well as the verbal dissuasion skills and de-escalation tactics the children learned the necessary break-aways to keep them safe and what avenues they can use to report situations.
The CIMAC super league was also successful for TEAM EPIC, with instructor Gio Marchese returning to action after a long 6 months out with a groin injury and took gold in a strong category. The Doyle family had a strong representation at the event with Kam picking up gold medals in -54kg and the -63kg points and a silver in light continuous, unfortunately there was spinning kick that wasn't scored for Kam in that final. Ellie lost in the final by one point to pick up silver in the -31 female category, however she went into a even tougher -37 category and beat a 15 year old to take gold in the final (Ellie is 10) which is a massive achievement. In the tag team Ellie and Carmen Jones came second, losing by a point again to take silver. Harrison took on very ton categories in the -33 points and light continuous as well as the -40 points and lost out to third in all three but performed brilliantly to win his first two rounds in the categories. Harvey Tyler lost his first round fight in -28kgs points advanced after going to extra time , he came 2nd in -28kgs light continuous advanced after winning 2 hard fights which is a good result as it is his first time in the advanced category.
This weekend saw a pre grading session at Filton Hill school which was attended for all those grading at higher grades in both Lau gar and kickboxing. The session was taken by head coach Andy Cleeves and was good to see everyone there in the build up to October 3rd grading at Gordano school. Finally another successful promotional day- this time at Willowbrook shopping centre in Bradley Stoke, which saw more people than expected stop by and looked to be involved with EPIC.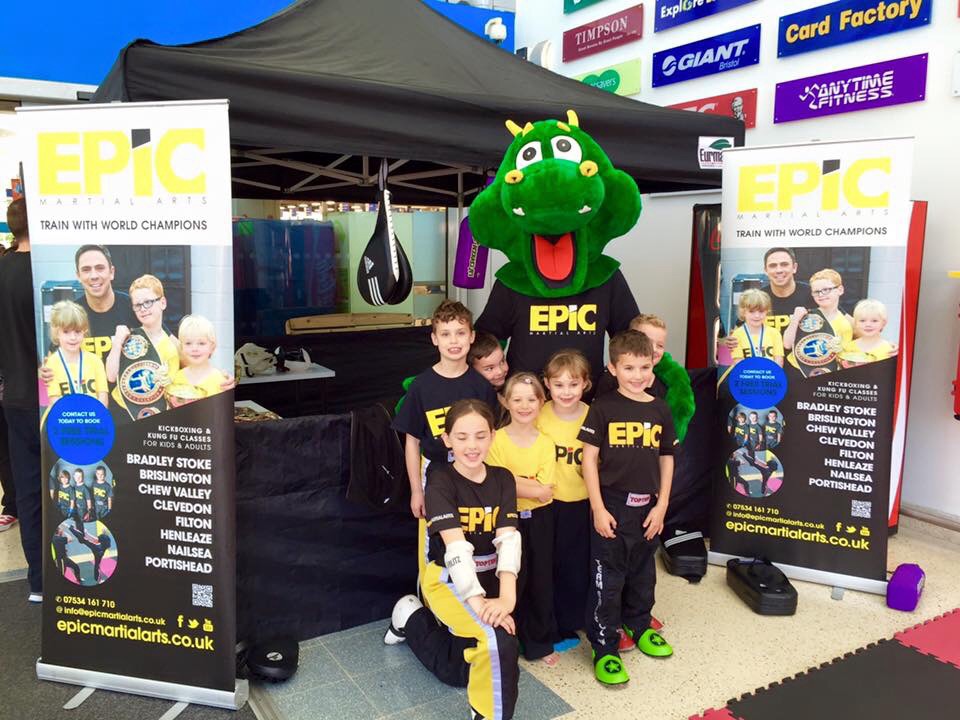 We are almost through September now but still have next Saturdays Interclub competition taking place at Gordano school and then into October we have the grading on the 3rd then the 10th and 11th are the prestigious Bristol Open. If you want to be involved with any of the above mentioned events then it's not too late to book now on our events part of the site!