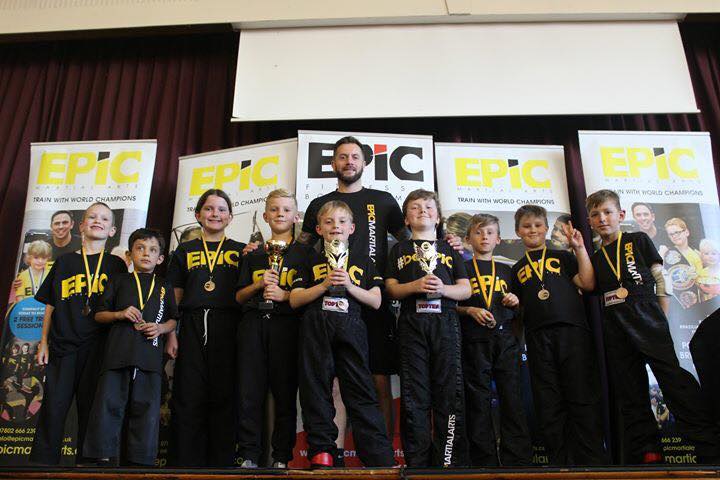 Role: Head coach of kickboxing & Class instructor
background: Taekwondo, kickboxing, fitness
nicknames: Jackal, Joemar
This Sicilian kickboxing wizard mesmerises his opponents with strong combinations, flashy kicks and slick evasive movement. He's more than just a solid fighter though, he is a brilliant coach too, having run his Brislington classes for a decade! He has raised champions through the EPiC ranks and has even started to explore the world of promotion. Gio is the front of house promoter for SKiLL STRiKER, an old-school continuous based showcase that has held several events. Gio also is a co-promoter of the EPiC Open events with head coach Andy Cleeves.
Gio is the co-owner of our EPiC Centre of Excellence at Bradley Stoke. He pours his heart and soul into coaching, fitness and will go above and beyond to help all of his students achieve their goals. Gio  won the WKA World Championships in 2011 in Orlando, Florida, 3x WKU world titles, 2x Irish Open titles as well as a whole host of international titles. As part of a strong team, Gio won the Kings Battleground tournament and also the highly regarded Clash of the Titans. Gio also was the UCMMA Bantamweight UK1 Championship belt, which he also made one successful defence of before conceding the title to none other than the current ONE Championship Muay Thai fighter Jonathan Haggerty. 
Outside of his professional life, Gio is a family man. He loves spending time with his wife Annie and his two girls Mischa and Darcie. He is an avid Bristol Rovers FC fan and goes to watch their games when he can. When it comes to TV, Gio enjoys watching fights, particularly the UFC! When he isn't doing any of that, he's out enjoying a cheeky Nandos with the lads!
Notable Achievements/Accolades:
WKA World Champion, 3x WKU World Champion, UCMMA bantamweight UK1 Champion, Kings Battleground Team Champion, Clash of the Titans Team Champion, 2x Irish Open, 7x WAKO British Champion, 5x Bristol Open Champion, Athens Challenge Champion, Full Contact English and British Champion, CIMAC Superleague Champion, 2nd Dan Blackbelt in Taekwondo, 1st Dan Blackbelt in Freestyle Kickboxing, 1st Dan Blackbelt in Lau Gar Kickboxing, British ITF Taekwondo British Champion.